Who we are
Allow Us To Provide You With The Ultimate Parasail Experience
When you visit Madeira Beach FL, we want you to immerse yourself in the beauty of the area and have the adventure of a lifetime. As a premier provider of Madeira Beach parasailing, we're confident you'll have an unforgettable experience soaring over the Tampa Bay Beaches between Clearwater Beach and St Pete Beach.
Whether you prefer to enjoy parasailing with one or two friends you can soar in the air and enjoy the peaceful and serene setting.
The Best Excursions and Experiences
Exciting. Family Friendly. Fun.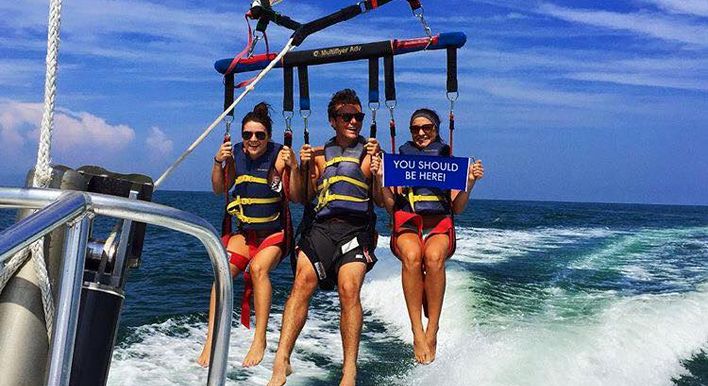 A Parasailing Adventure over the Gulf of Mexico! Gators Parasail is located on Florida's Gulf beaches at John's Pass Village & Boardwalk in Madeira Beach, between St. Pete Beach and Clearwater Beach, near Don's Dock. We're ready to show you a parasailing adventure to remember. Anyone can fly!
Breathtaking Views and beyond of Madeira Beach FL!
If you want to enjoy a deluxe parasailing adventure high above the Tampa Bay Beaches between St Pete Beach and Clearwater Beach Florida, you've come to the right place. We're confident we can provide you with a memorable parasailing experience due to our high level of experience in the industry and our experienced crew of experts.
We'll help you feel safe and confident while spending time on a boat and will provide you with the necessary instructions to ensure you have a smooth and enjoyable experience while parasailing. We have a team of Coast Guard licensed captains with a fully-trained crew.
#1 Rated Parasailing in Madeira Beach, FL
First time parasailing was a little nervous but the crew was very informative and gave great instructions. We will definitely be back.
Kimberly Guerrieri
7th June 2023
I highly recommend this group if you are thinking of parasailong. The staff was friendly, knowledgeable, very safety minded. Made you feel relaxed and comfortable.. We had a wonderful experience parasailing including getting completely dipped in the water not once but three times.. They went above and beyond to make it a great experience, even when we got off the boat and are car keys fell into the water and sunk to the bottom 40 feet, Bryce the boat captain was able to dive down and retrieve them for us saving us calling a locksmith or tow truck. . They are simply amazing people!!!!🙂💯
Martin Thompson
6th June 2023
We were in town visiting for our yearly girls trip. We had so much fun ☺️ Being up so high over the water was amazing. The instructors were very nice and explained everything to you as you take off. We will be back to jet ski next time
Chanele McCarthy
29th May 2023
John and Jordan were awesome!!! 100% recommend!!!!
Stephanie Banai
28th May 2023
Great experience! And all of the staff are amazing!
The guide's we're absolutely amazing! Beautiful day out! We all had an amazing adventure!! You must try this!! Go Go Go!!!
jscropper76
13th May 2023
Captain John and first mate Jordan were amazing! Was an amazing experience and would highly recommend giving it a whirl!!
Jacob Milbrandt
12th May 2023
So awesome! The last time I went parasailing was in 2002 in Fort Lauderdale and it was a short ride for more money compared to this. My friend and I were the only ones booked for that time slot which is probably why we got to stay up so long, but it was awesome! Going up was gentle, the dips were gentle and coming back on to the boat was smooth. John and Jordan were awesome too!
Went parasailing today with Captain John and First Mate Jordan! Had the time of our lives flyin high in sky!!! The entire crew was down to earth and all nice smiles. We're locals and we will be back to whip the jet skis. Thanks guys
Mandy Colón
10th May 2023
Previous
Next
Location
Explore All Madeira Beach Has To Offer
Madeira Beach is one of the most desirable locations in Florida and is a great place to have an outdoor adventure due to the natural beauty of the destination, whether you're parasailing or swimming in the water. Madeira Beach has plenty of places to explore, which includes John's Pass Village and Boardwalk. While spending time in John's Pass you can take in the history and find of eateries and shops.
Our parasailing adventure allows you to get a bird's eye perspective of the surrounding area. The family-friendly location makes it an ideal place to explore as you take in the turquoise waters and white sand beaches.
Frequently asked questions
Most frequent questions and answers
Recent news
Who doesn't love an island adventure filled with soft sand beaches, plenty of fun in the sun, and exquisite cuisine? Head to Florida the next time you need an escape from the mundane and discover some of the best beaches…
One of the absolute best reasons to visit Tampa is the abundance of exciting activities that await you in and around the crystal blue and emerald waters along the coast. Not only can you embark on adventurous boat tours, but…
Whether you're looking for fun in the sun on the beach or you want to set out for excitement and adventure like parasailing and fishing, Madeira Beach is the place to be. This charming beach town is located in Pinellas…
Book Your Next Parasailing Adventures Now
.
Parasailing in John's Pass is the Most Exciting Way to See Madeira Beach!