St. Petersburg Parasailing
Experience St. Petersburg From A Whole New Perspective!
If you're looking for adventure or outdoor activities while visiting Tampa Bay then St. Pete Beach parasailing is a great opportunity. You'll be able to see the city and its gorgeous surroundings, and it's an experience that's perfect for people of all ages.
Come on out and see Saint Pete Beach, Madeira Beach, and the Tampa Bay Beaches from a whole new perspective - you won't regret it! St Pete Beach has never looked so good! Our experienced team will make sure that your parasailing adventure is safe and fun for everyone involved. They make sure you are fully informed of what to expect before your trip and how to prepare.
Our boats are equipped with safety equipment and life jackets. Our captains are US Coast Guard licensed and are experienced at providing a smooth flight for our riders so that you can enjoy without any worries about your safety or the quality of your experience.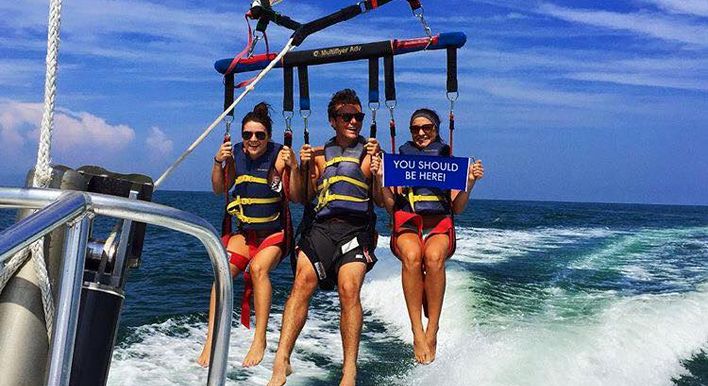 A Parasailing Adventure over the Gulf of Mexico! Gators Parasail is located on Florida's Gulf beaches at John's Pass Village & Boardwalk in Madeira Beach, between St. Pete Beach and Clearwater Beach, near Don's Dock. We're ready to show you a parasailing adventure to remember. Anyone can fly!
Most Fun And Adventure-Filled Activity Around St. Petersburg
We offer the most fun and adventure-filled parasailing around St. Pete Beach, complete with stunning photo opportunities and a whole lot of fun. Parasailing offers you the opportunity to experience the wind in your hair, the sun on your face, and the thrill of being lifted up into the clouds like a bird soaring above the city below you.
Our parasailing adventures are the most fun and adrenaline-pumping around, perfect for making memories on your Florida vacation. So come on out and enjoy the best parasailing boat in town. Book your St. Petersburg parasailing adventure today!